---
WaveLight® FS200 Femtosecond Laser
Speed
Precision
Ease of Use
Custom Treatments
Reliable Results
Patient Interface
Fast laser vision correction procedures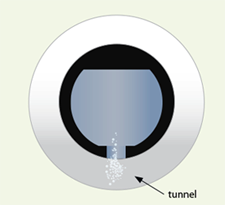 The combination of an optimized repetition rate at 200 kHz, a special scanning algorithm, and customizable energy and spacing parameters make the WaveLight® FS200 Femtosecond Laser the fastest flap creation laser platform in the U.S.
The system's unique treatment speed — approximately 6.0 seconds for a standard flap — results in.
A minimization of increased IOP time
Potentially less stress for the patient
Optimized clinic workflow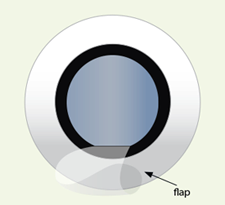 By forming a tunnel to vent gas produced during flap creation, the WaveLight® FS200 Femtosecond Laser minimizes Opaque Bubble Layer (OBL) issues, resulting in fast total refractive procedures.
With OBL issues minimized, the excimer laser treatment can be performed right after the flap cut, which may help facilitate patient flow.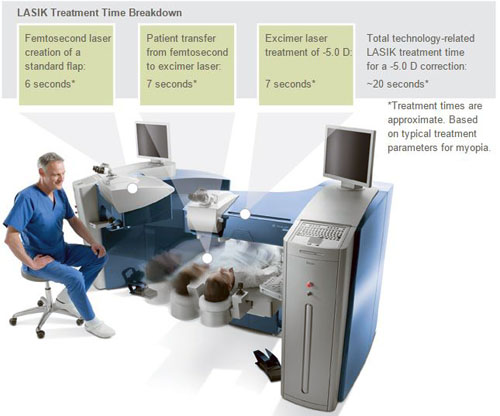 Precise treatments
High-precision treatments require high-precision pulse creation. That's why the WaveLight® FS200 Femtosecond Laser system utilizes PerfectPulse Technology®, which helps ensure precise work at high speed.
PerfectPulse Technology® combines a variety of technical innovations, such as advanced line scanning, smart calibration, beam control and a unique patient interface design, to facilitate precise treatments.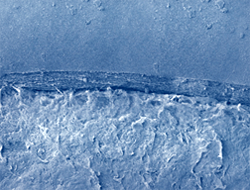 Further enhancing precision, every single applanation cone is individually calibrated prior to the treatment through the automated Beam Control Check.
The WaveLight® FS200 Femtosecond Laser's motorized laser arm is moveable in all three axes for easy, fast and exact patient centration, while the Gaussian beam profile provides a smooth ablation without grooves and ridges.
For a stable performance, the system is fully enclosed with less sensitivity to temperature and humidity, enabling efficient performance in a variety of surgical practices.
Practicality and ease of use
The WaveLight® FS200 Femtosecond Laser boasts a variety of features that promote comfort, practicality and ease-of-use.
Advanced surgical microscope: Enables total control of the procedure via excellent visibility during docking and cutting.
Versatile operator joystick: Can be moved for right- and left-hand application, depending on the eye being treated, enhancing workflow as well as surgeon comfort.
Integrated S-video output: For documentation and display purposes.
Uninterrupted power supply: Compensates for power disruptions and fluctuations.
Tolerance of humidity and temperature fluctuations.
Variable bed swiveling angles and height: Allow for optimized adaption to room space requirements. The bed is secured against undesired movements during surgery.
Electronic patient record module: Provides cutting procedure details and photos of the treatment.
Adaptable to your practice
In addition, the system's easy-to-clean user interface includes a keyboard, control panel and high-resolution monitor to boost surgeon and staff visibility. The ready-access control pad provides immediate laser control to the surgeon throughout the procedure.
Another cost-saving benefit is that, in most cases, expensive architectural changes to the operating room aren't necessary, thanks to the laser's sealed beam path. The system's reduced space requirements means it can fit in a wide range of surgical suites. And in order to maintain the high hygienic standards, all parts of the laser system that might be touched during surgery can be fitted with sterile covers.
Highly customized treatments
For highly advanced LASIK treatments, the WaveLight® FS200 Femtosecond Laser offers customized flap creation options relative to individual adjustment of flap size and shape, adjustable hinge position and hinge size, and variable angles for the side-cut incision.
Through the system's unique patient interface design, very large flaps of up to 10 mm are possible, which can be especially useful for hyperopia treatments.
Individualized flap centration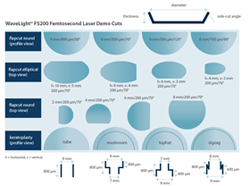 Before starting the cutting process, the surgeon may customize the center of the application to the specific needs of the patient. The placement of the suction ring does not define the center of ablation. The large applanation area of >11 mm allows for individual centration of big flaps (e.g., 10 mm flaps for hyperopia treatments), even after suction has been applied, without the need to reduce the intended flap diameter.
The ability to center the treatment, even after suction has been applied, results in:
A more accurate flap
Easy centration
Increased ergonomic options for the surgeon
Even more treatment possibilities
Additionally, the versatile technology behind the WaveLight® FS200 Femtosecond Laser makes a variety of femtosecond treatment options possible, including:
Intracorneal ring segments
Keratoplasties: lamellar (open platform, all different kinds of cutting patterns possible), penetrating (extremely large penetration depth, suitable for thick donor materials) and self-sealing keratoplasty that can be performed with individual keratoplastic shapes
Stable and reliable treatment results
The WaveLight® FS200 Femtosecond Laser is designed to enhance reliability and predictability through a precise calibration procedure. Energy and beam quality are controlled through several measurement sensors at different points in the beam path, designed to provide a high quality beam profile and precise spot formation.
The objective calibration routine, in combination with energy and beam quality control, results in:
A reliable depth calibration and confirmation procedure
Precise laser alignment
Easy and precise laser setup
Stable and reliable treatment results
Advanced line scanning
The WaveLight® FS200 Femtosecond Laser features advanced line scanning through one axis interpolation, thereby minimizing the induction of errors. Customizable line and spot separation with adjustable energy settings provides a smooth stromal bed.
Keeping the laser spot physics stable during the entire treatment leads to optimized pulse creation for each cutting profile.
The efficiency of the photodisruption effect in combination with the steepness of the induced shockwave leads to an optimal separation of tissue by minimum energy induction.
Unique patient interface
Specially designed to boost patient cooperation and facilitate flap creation, the WaveLight® FS200 Femtosecond Laser's patient interface kit consists of an applanation cone, a suction ring and vacuum tubing.
The applanation cone enables a flat applanation, leading to consistent, stable energy, a reduced standard deviation, planar flaps and a minimization of decentered flap creation. This results in high, reproducible flap creation quality.
It also features an effective scanning algorithm through movement in one axis, leading to solid and reproducible flap creation quality.
The automatic Beam Control Check (BCC) calibrates every applanation cone before the treatment to minimize production tolerances and thermal influences of the room temperature on the procedure.
Advanced suction technology
The WaveLight® FS200 Femtosecond Laser's unique patient interface enables short "suction on" to "suction off" time, a feature that's designed to provide:
Easy docking procedures
Less irritation of the sclera
Gentle treatments for the eye
The ability for patients to see even after the suction ring has been applied, contributing to better cooperation throughout the applanation process
To promote easy handling and precise application, the WaveLight® FS200 Femtosecond Laser's patient interface offers automated applanation, combining the suction ring and applanation cone via a fully controlled vacuum, rather than manual applanation and docking. The efficient and well-engineered suction and docking system enhances patient cooperation, which facilitates the femtosecond procedure.
---